There are dozens of interview coaching services out there, with huge variations in prices that sometimes bear little relation to the quality of the coaching.
Use this guide to work out which interview coaching service is right for you. We've categorized coaching services by different needs and specialties.
Here's what we'll cover:
In order to generate our recommendations we have analyzed customer reviews, prices, ease of booking, and the selection of coaches.
Okay, ready to find out who's our Number 1 overall pick? Let's go.
Not getting many interviews? Click here to get expert, 1-to1 feedback on your resume
1. Top 3 interview coaching services overall
We've picked out 3 interview coaching platforms that score highly on all the important things; value for money, quality of coaches, choice of coaches, ease of booking and scheduling, and customer service.
Okay, so perhaps there was some bias involved in the decision-making here. But a 4.95 average star rating from over 10k reviews is hard to ignore.
IGotAnOffer lets you browse over 200 ex-interviewer coaches, from companies such as Google, McKinsey, Goldman Sachs, etc. You can see the coaches' hourly availability and book your online session in a couple of clicks, something you often can't do on rival platforms. And if you're not satisfied, you get a full refund.
Stands out for: 4.95 average user rating
Price: $119 - $149 p/h
Money-back guarantee: Yes
Pros: Low prices, large choice of coaches, instant scheduling
Cons: One-size fits all pricing
Specializes in: Consulting, Tech and Finance
If you can't find a coach with the profile you're looking for on any of the dedicated coaching websites, try LinkedIn. The sheer number of coaches available means that there is something for every need.  If you have the time, you can find really good online coaches here and prices can be lower than on other sites.
The downside is that they don't display their prices and there's no booking system so you have to message a coach and wait for them to get back to you.
Stands out for: Diverse range of coaches
Price: On request
Money-back guarantee: No
Pros: Large choice of coaches
Cons: No booking system, price not displayed.
Interviewing.io is our third pick because it's so different from the many other coaching platforms available. It's specialized towards the software engineering community and the quality of the coaches tends to be very high (they will have worked at Google, Amazon, etc.) Interestingly, it offers total anonymity by using voice interviews only (no video),  which some users might prefer.
Stands out for: Total anonymity
Price: Starts at $150 
Money-back guarantee: Yes
Pros: Superb coaches, great prep videos for engineers
Cons: You have to join a waitlist.
2. Best value interview coaching websites
While the upside is high, interview coaching can seem expensive. It's difficult to find good coaching for less than $100 per hour, but we've managed to find some valid options.
InterviewBuddy is a new platform that takes a no-frills approach to interview coaching online. If you don't mind being given a coach who may not have expertise in your area, it can be a very affordable way to practice and get useful feedback.
Price: From ~$40 p/h
Pros: Very affordable, easy to use
Cons: 2 day waiting period, specialized coaches cost more, platform in early stages.
Wendi has done over 1500 hours of coaching and so we were surprised by the competitive price of her interview coaching package: $250 for a 1.5h call and two follow-ups. She offers a free consultation call before payment, and is used to working with people from all sorts of professional backgrounds.
Price: $250 for 2.5 hours of calls
Pros: Low price per hour, very experienced coach
Cons: Limited availability, just one coach
Fiverr is an online marketplace where you can find freelancers for all sorts of tasks, including interview coaching. Some coaches on Fiverr allow you to book sessions as short as 20 minutes for around $30, so if prices on dedicated coaching sites are really out of your reach, Fiverr might be worth a try.
Price: Starts at ~$65 per hour
Pros: Low coach prices
Cons: No quality control, low trust site.
3. Best free interview coaching
Okay, so like lunch, there's really no such thing as free interview coaching. But there are some sites where you  get free interview practice by doing mock interviews with other people also preparing for interviews.
Pramp is a free mock interview platform for people preparing for tech interviews (software engineers, product managers, etc). Many candidates start off doing free mock interviews on Pramp and then move on to paid interview coaching to get to the next level. A great site to use if you have plenty of prep time left before your interview.
Price: Free
Pros: Free practice, partner matching system, good customer service
Cons: Occasional no-shows, lower quality feedback
InterviewBit is another platform offering free technical mock interviews for engineers applying for their dream job. As it's aimed specifically at engineers it also has some nice coding features built-in. You can also take free mock assessments to gauge your level ahead of your coding interview.
Price: Free
Pros: Partner matching system, good UX
Cons: Occasional no-shows, lower quality feedback
4. Best interview coaching for executives
If you're at executive level or higher you'll need a coach that is experienced at a very senior level and understands the unique challenges involved.
Arielle coaching has offices in New York, Sydney and Melbourne. They only work with candidates who have held very senior leadership positions and this enables them to offer a bespoke, in-depth service, spending an average of 20 hours with each customer to create their personal "brand". They have some impressive testimonials and if you're really looking to invest in personalized coaching, Arielle could be for you.
Price: $2k+
Pros: Bespoke, 360º service
Cons: High cost, timezone can be tricky.

Interview-ready is a coaching website set up by interview coach Clare Reed, but there are also a few other coaches you can book if you prefer. Clare has a wealth of experience working with CEO or Director level candidates and we were impressed by the relatively low price per hour when you book a package with her.
Price: ~$800+ for 5 hours
Pros: Good booking system, package includes 2hr video course
Cons: Limited choice of coaches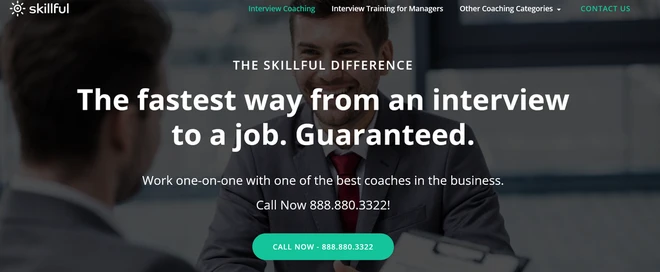 Pamela Skillings is a well-known interview coach and has helped hundreds of people land their dream jobs. She leverages her experience as a hiring manager, a human resources executive, and a professional coach.
Price: $750+
Pros: Extremely effective coach
Cons: Limited availability, high starting price
5. Best interview coaching for managers
If you're interviewing for a management role you'll want to book a coach that can give expert advice for questions on project and people management and leadership. At management level salaries can vary hugely, so you may also want to learn about how to better negotiate yours.
TopInterview is actually a fairly small interview coaching company but it gets a lot of good press.  Nick D does most of the coaching and his profile looks impressive (MBA in economics and has coached over 500 individuals). Nick is used to coaching executive and senior managerial candidates, so it could be a good option for you, especially if you're applying for a business role.
Price: $149 per hour
Pros: Competitive pricing, well-accredited coaches
Cons: You can't browse coaches, small selection of coaches
The Job Sauce is a coaching site that also offers a resume writing service and salary negotiation. It has some good reviews on TrustPilot and the pricing per hour is competitive. The downsides are that unlike on IGotAnOffer, you can't choose your coach and booking a timeslot isn't super straightforward.
Price: $297 for 1.5 hours of calls
Pros: Competitive pricing, includes bonus salary negotiation call
Cons: You can't choose your coach, can't see available time slots before paying
6. Best interview coaching for consultants
Founded by former BCG consultant Kenton Kivestu, RocketBlocks focuses on Consulting and Product Management coaching online. We've heard good things about it and it's got lots of good supporting resources that you'll get access to as part of your monthly fee.
The downside is that you have to pay a relatively high price, considering that IGotAnOffer has dozens of MBB ex-interviewer coaches for just $149 per hour.
Price: $200 per hour + $35p/m
Pros: Strong reputation, good supporting resources
Cons: Quite pricey, can't browse coaching without signing up
MyConsultingCoach makes our list of recommendations because of its competitive pricing and good reviews. However, you only have four coaches to choose from, which isn't' great if you're looking for a coach from a specific firm. And to sign up you have to fill in a form and wait for an email.
Price: $142 per hour
Pros: Competitive price
Cons: Small coach selection, slow sign up process
7. Best interview coaching for tech (software engineers, PMs, etc)
TryExponent is one of the leading platforms for tech candidates looking to land their dream job. The site is packed full of resources and while it's mainly known for its courses, it also does interview coaching. You'll find a good range of software engineer or PM coaches with experience at top FAANG companies. 
However, the price is a bit high. In fact, if you go to IGotAnOffer instead you can often book a session with the exact same coach for $60 less!
Price: $200 for 1 hour
Pros: Decent UX, FAANG coaches, free prep materials
Cons: High price
Like TryExponent, you can browse lots of ex-FAANG coaches across different roles to find the right coach for you. It's extremely easy to immediately see coaches' availability, but the main difference is the much lower price. Plus, it includes a 100% money-back guarantee in case you're not satisfied with your session.
Price: $119 - $149 p/h
Pros: Low prices, large choice of coaches, instant scheduling
Cons: One-size-fits-all pricing
Go to website
TechInterviewCoaching is a relatively small company and judging from the reviews it seems that there is a good chance that Andrea, the founder, will be your coach. We've included as one of our recommendations because Andrea has a strong coaching profile and the pricing is hard to beat. But be prepared to sacrifice some of the immediacy and easy booking features you get on other platforms, as well as choice of coaches.
Price: $101- $134 p/h
Pros: Low price, great customer attention, good coaches
Cons: You can't browse coaches before paying, first step is scheduling an intro call
8. Best interview coaching for finance
Wall Street Prep is a giant when it comes to finance and investment banking career advice and interview prep. It's got an incredible range of free resources, excellent courses and a selection of boot camps.
For interview coaching, you can book a 1-to-1 session with an ex-banker from the likes of Goldman Sachs, etc. The downside is the price, especially given you can book a similar profile of finance coach on IGotAnOffer for just $149.
Price: $400 per hour
Pros: Industry leader, quality and range of coaches
Cons: Expensive
9. Best interview coaching by women
If coaching used to be a male-dominated industry, it's not anymore. Most good coaching platforms have a large selection of female coaches you can choose from, even in the still male-dominated tech industry. But you may still want to  choose a company that has a particular focus on women, such as the two we've listed.
The Muse was founded by three women and originally targeted female professionals before broadening out. As you'd expect they have plenty of great female coaches available on their site.
Price: $150 - 750 per hour
Pros: Easy to search and filter coaches, range of prices, good UX
Cons: More experienced coaches are quite pricey
10. Best interview coaching for entry level
Expert Interview Coaching is run by Barry Drexler, a very experienced coach who has worked with many Fortune 500 leaders. The Google reviews are very positive and he runs a program specifically aimed at preparing recent grads for tough interviews. The downside is that there aren't many other coaches to choose from and you can expect a slow booking process.
Price: Starts at $349 for 1.5hr call
Pros: Good reviews, experienced main coach
Cons: UX isn't great and you have to join a waitlist. 
As its name suggests, MentorCruise is more focused on mentoring and career coaching, but it does offer interview coaching. If you search enough, you can find some interview coaches with strong profiles at great prices, which could make it attractive to entry level candidates on a budget.
The downside is that you have to pay a monthly mentoring fee rather than book individual calls, which isn't ideal if you're just looking for interview coaching sessions.
Price: $50-500 p/h
Pros: Some good value coaches available
Cons: UX is designed for long-term mentoring, not as easy as other websites.
11. What does an interview coach do?
An interview coach should enhance your performance in job interviews and so increase your chances of landing an offer. A good coach will be able to do the following for you:
Give you expect feedback
Tell you if you're ready
Help you prepare more efficiently
Help you with nerves and confidence
Help you structure your answers
Share valuable prep resources
Help you increase your salary offer
Improve your resume (or see our guide to the 6 best resume review services)
For more details, see our article on what an interview coach can (and can't) do for you.
12. How much does interview coaching cost?
Interview coaching isn't cheap: the average price is around $150 per hour with plenty over that and not much under it.
However, when you think about the long-term impact it could have on your salary and career trajectory, it can actually be a relatively minor investment for such a big return.
Let's remind ourselves of the range of prices across our recommendations.
As you can see from the range of prices above, there should be something to suit most budgets. The key is to make sure you're getting value for money.
On our platform, you'll pay $149 or less for a 1-hour session with an ex-interviewer from Google, McKinsey, JP Morgan, etc. We believe that's pretty great value, but we encourage you to compare it to other websites and make your own mind up.